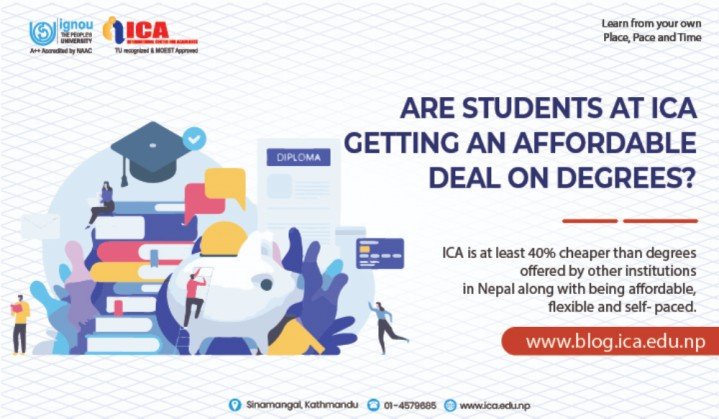 College education is often an important financial decision for most households. In Nepal, college education is usually financed through family funds and sometimes through personal savings of learners themselves. Financial pressures arising from the cost of education is linked with poor performance of students in studies, including lower grades and loss of interest in studies.
Add to that, inflation has a really incremental effect on the education sector that has sharply reflected over the prices of the education sector, especially in privately funded educational institutions. Furthermore, the lack of proper public financing in education such as scholarships, student loans, etc. still remains a distant affair in the Nepalese education diaspora.
Thankfully though institutions such as International Centre for Academics (ICA) are there to provide better options and alternatives to help you achieve your dream career and degrees and to relieve you from this worry.
Just to let you know there were 777 private campuses in Nepal in 2019 and the numbers are definitely growing. You definitely have to pay for tuition, admissions and other academic costs such as books and study aid.
If you are a traveling student, there is yet another huge cost of living and board, plus both internal and outside transportation. Don't forget the food you eat and the skyrocketing food and energy prices. If you want to study abroad, the cost multiplies exponentially including costs of travel, medical insurances, visa fees, social security among others.
Well what if you knew that you could choose to study your desired course for a really affordable amount and that just too without having to attend classes physically? Well it is possible and the answer is distance learning. Indira Gandhi National Open University (IGNOU) at International Center for Academics (ICA) is one of the world's largest universities offering distance learning courses globally. It would be a safe investment and the most cost effective way to enroll in one of such courses today.
On an average an undergraduate/bachelor's level degree in a private institution would cost you around four lakh rupees and a graduate/master's degree would cost at least seven lakh rupees but at the International Center for Academics (ICA), the same are offered for an average of one lakh fifty thousand and two lakh rupees respectively. If you look at it, ICA is at least 40% cheaper than degrees offered by other institutions in Nepal, depending upon your course of interest. Add to that the degrees of Indira Gandhi National Open University are recognized and accepted globally for career and academic purpose too.
Along with being affordable these courses are flexible and self-paced. At the same, distance learning is also gaining high popularity today because of the fact that courses can be accessed from anywhere, whether it be your office table or it be the comfort of your own homes, course materials are available both online and offline. This saves up a lot of financial resources for the learners.