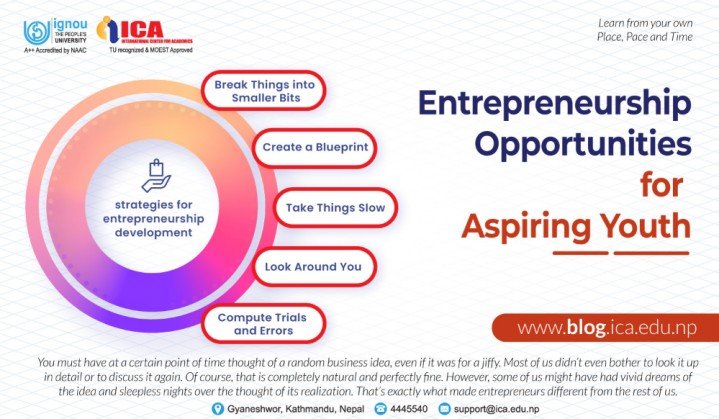 You must have at a certain point of time thought of a random business idea, even if it was for a jiffy. Most of us didn't even bother to look it up in detail or to discuss it again. Of course, that is completely natural and perfectly fine. However, some of us might have had vivid dreams of the idea and sleepless nights over the thought of its realization. That's exactly what made entrepreneurs different from the rest of us.
An entrepreneur is someone who seeks an opportunity where others would generally skip to look through. It is this exact business acumen that fosters entrepreneurship. The eagerness of those who take the toll to dive deeper into mere business related thoughts, breaking them into doable actions makes entrepreneurship possible.
Entrepreneurship is the trending buzzword in the business fraternity in Nepal these days. Rightly so, innovative enterprises have emerged into the Nepalese business diaspora in the past couple of years. The recent pandemic saw a huge rise in digital platform related enterprises in Nepal. From just a handful to thousands now, this innovative and entrepreneurial environment shows signs of affirmative growth.
It is often said that crisis yields opportunities for those who take the risk to venture into the unknown. However, successful entrepreneurship requires precise planning and risk evaluation and cannot stand on grounds of mere investment flings, especially in a country like Nepal.
It is often debated that trade policies, regulations and other rules and regulations are hugely discouraging for young entrepreneurs in Nepal. In this scenario, aspiring entrepreneurs need to plan strategies to overcome such bureaucratic hurdles coupled by burdens of financial management for successful enterprise outcomes in Nepal. Add to that, human resource planning, cash flow management, marketing strategy and capital generation are some other areas that need prior strategic planning.
It is quite obvious that aspiring entrepreneurs might sometimes need to unlearn and start from scratch to analyze any risks and conditionality associated with enterprise development, in developing world country like Nepal. Some of the effective strategies for entrepreneurship development are highlighted here.
Break Things into Smaller Bits
It might sometimes feel like your business idea is a big ask for you to accomplish. After doing your research, it is natural to feel burdened about the scale of operations. It might look like a really uphill task at first, but if you take things slowly and breakdown the overall business into smaller operational components such as general administration, logistics, capital management, accounting, marketing and branding, and post production, your task looks more objective and easier to accomplish. This helps to set realistic targets based upon the scale and scope of inputs available. It is always better to have departmentalization and authority delegation to achieve these set targets more smoothly and efficiently.
Create a Blueprint
Just like you are constructing a building, you need to lay the foundation and slowly follow the brick and mortar approach, your business needs to be analyzed from all possible aspects including risks and its aversions. Creating a blueprint of service or a prototype of your products will give you an added edge over theoretical assumptions and help you figure out necessary changes or improvements for successful demonstration at the market level.
Take Things Slow
As young aspiring entrepreneurs, we often tend to be carried away by time burdens and the eagerness to start early. Of course, this is one of the essential traits of a successful entrepreneur but calculations based on real life experiences and risks are equally important to have an accelerating head start.
Look Around You
It is always a good idea to look for duplication or competition in the markets. We need to just go out there are have a look around for homologous products or services to access the type of markets that we aspire to penetrate. It is also very crucial to understand your competition in terms of quality, scale and pricing among other functioning market environments before we plunge into business ideas,
Compute Trials and Errors
Entrepreneurship lies in unlearning, learning and relearning. There will be times when we have invested our full vigor, capital, time and other resources into creating the unique service or products. However, successful entrepreneurs never launch their products half-heartedly. Running beta tests and piloting and conducting critical review from professionals is highly advisable for sustainable businesses.
FINAL TAKEAWAYS:
With growing interest of young entrepreneurs, the entrepreneurship fraternity in Nepal is set to take the pace. Right now Nepal is in fact an economy with immense opportunities in varied sectors. Given the right intent and vigor, our aspiring entrepreneurs are rightfully the successors of the new alternative model of economic growth in Nepal.