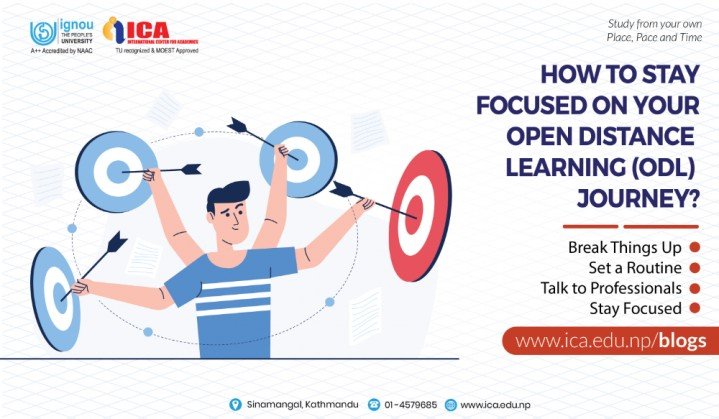 "How can I stay focused in my college journey?" This is a prime question arising among students at all levels. Especially given the nature of Open and Distance Learning (ODL) where physical classes and attendance is not mandatory, the time seems to pass too quickly. It's that day when you did your admissions, and suddenly you realize that it's time for you to submit assignments and BAM! You are sitting for your Term End Examinations (TEE). Learners sometimes find it difficult to continuously focus on their ODL studies because most of them are not used to the blended learning approach.
But Hey! Here are some tips to keep you focused in your ODL journey.
Break Things Up
It becomes really difficult to try and gather all the information at one go for all students. It is only natural. Therefore, it is usually a best idea to break things into smaller portions including study hours, study materials and coursework so that your focus remains intact.
Set a Routine
Again, the pressure of completing your studies is so deeply rooted that it is sometimes demoralizing. The best way to overcome this is to set up a daily, or weekly routine. Just sticking to the routine and regularly spending some time at the desk will make it really easy at the end.
Talk to Professionals
If you think you are alone in the ODL journey and feel left out and demotivated it is great to talk to your tutors or field experts on the subject matter. Sometimes a talk with a professional or peer is more than hours and hours of desk study and research.
Stay Focused
Easier said than done, staying focused might sound vague but it is not unachievable. Some people listen to mild music, while studying. Taking occasional breaks from studying is also important at the same time. Each time you feel down. Tell yourself. I CAN DO THIS.