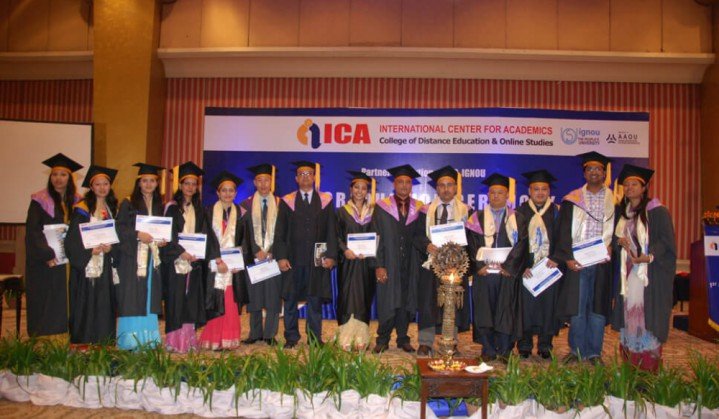 2019-03-22
International Center For Academics
ICA has been a great place to learn for learners since its establishment in 1997. In 2002, it became the first Partner Institution (PI) currently known as Overseas Study Center (OSC) of Indira Gandhi National Open University (IGNOU).Open learning is primarily an educational policy or a goal in which education institutions who have settled with open learning accept every student who wants to pursue a degree without attending regular classes and can study from any place at their convenient time and pace. Distance education is more of a method of education where students can have their own time and venue for studies without being compromising professional and personal life.
In other words ICA has opted for ODL to educate its learners. It gives its learners freedom of education in different ways:
Freedom of time: ICA facilitates its learners with study materials which he/she can access at any time. While ICA provides assistance to its learners on a weekend there is also flexibility for the learners to make time for consultation with the teachers over free time. One can even contact the teachers over email and phone for help.
Freedom of Pace: ICA does not require anybody to complete a program of study within a set of time. Instead, learners can learn in their own pace and learning path that is needed to be followed for the program.
Freedom of place: In courses such as MBA student won't necessarily have to attend any classes to complete the degree. Students who choose to go abroad for various purposes can find a study center and continue their studies and even appear for exams.
Open to Everybody: ICA is open to every programs it offers. For a Master's program if
somebody who has a professional degree that can be marked equivalent to a Bachelor's degree applies, he/she will have no problem being accepted. Also there are certain vocational professional trainings one can join even without prior education expertise i.e. one does not need to have certain grades in their secondary or high school.
ICA is making people aware about how learning can go together with academia. ICA has a motto "Work & Study at the same time" that it gives its learner opportunity to study and get their higher degree while they are working. ICA is working very hard to educate the nation and it is there to make sure that education is not just limited to a certain creed of people.