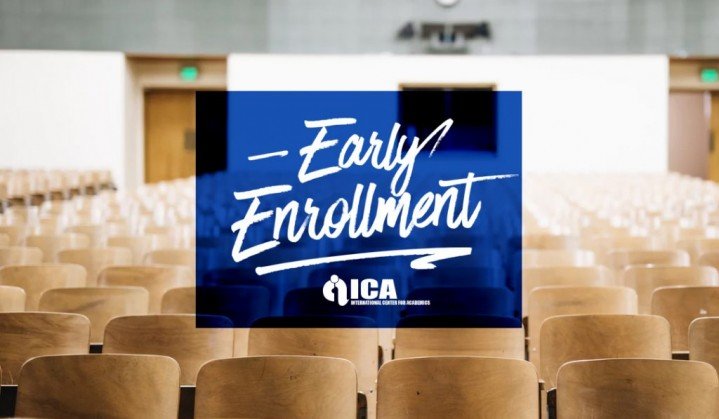 2019-08-13
International Center For Academics
In simple terms, early admission should always be considered as a part of your university plan. Though early admission is typically understood as just being admitted early to a college, it is so much more than that. While it is not used by all institutes but ICA (International Center For Academics) offers early admission for their learners. Learners admitted earlier often receive benefits such as more scholarship opportunities, which gives them priority over Learners who are only accepted later. Early admitted Learners are able to relax with all of the extra time they have once admitted but eventually in ICA course starts immediately without any further delay. They can focus on their studies, even visit the library beforehand which is open to all Learners and enjoy the rest of their year without stressing over deadlines and other applications.
The ICA provides a wide range of highly accessible and competitive programs. ICA proactively manages enrolment with finite number of spaces that can be offered to applicants. Learner's action of early enrolment decision will provide them the opportunity to see what's in the syllabus, receive study materials, get access to the digital platforms offered by IGNOU as well as ICA and get the opportunity to know the college and university better.
At ICA we believe and practice that your study begins right from the day you seek admission and not from the day classes are commenced. Your early admission means getting access to all the resources early hence you get sufficient time to plan and keep pace with your study. You can actually sit down with our Academic Counselors and staff members and seeing what the class has to offer beforehand is really constructive for what kind of learning environment you want to be catering over the course of the year. There are some colleges that has mandatory attendance but here at ICA it's optional. College is all about placing sole responsibility onto you as a learner and managing your time efficiently. It's about making sure you set aside the right amount of time you need to keep up with all of your required work.
If there's anyone who can understand the difficulty of finding a balance between work, study and life, it's only you. With the pressure of completing coursework, paying for it, and trying to enjoy your college experience, sometimes life can feel a little overwhelming to say the least. Between working, college, and maintaining a social life, it can seem like a daunting task to get everything done without feeling stressed, and we often have trouble maintaining a balanced schedule. So, we totally understand the difficulty that comes with trying to make ends meet while getting your education on and that's why we as ICA are here to offer up a learning and work. Open Universities such as IGNOU (Indira Gandhi National Open University) help people travel, Work and Study at the same time .Enroll early and discover the perks of staying ahead of the schedule.